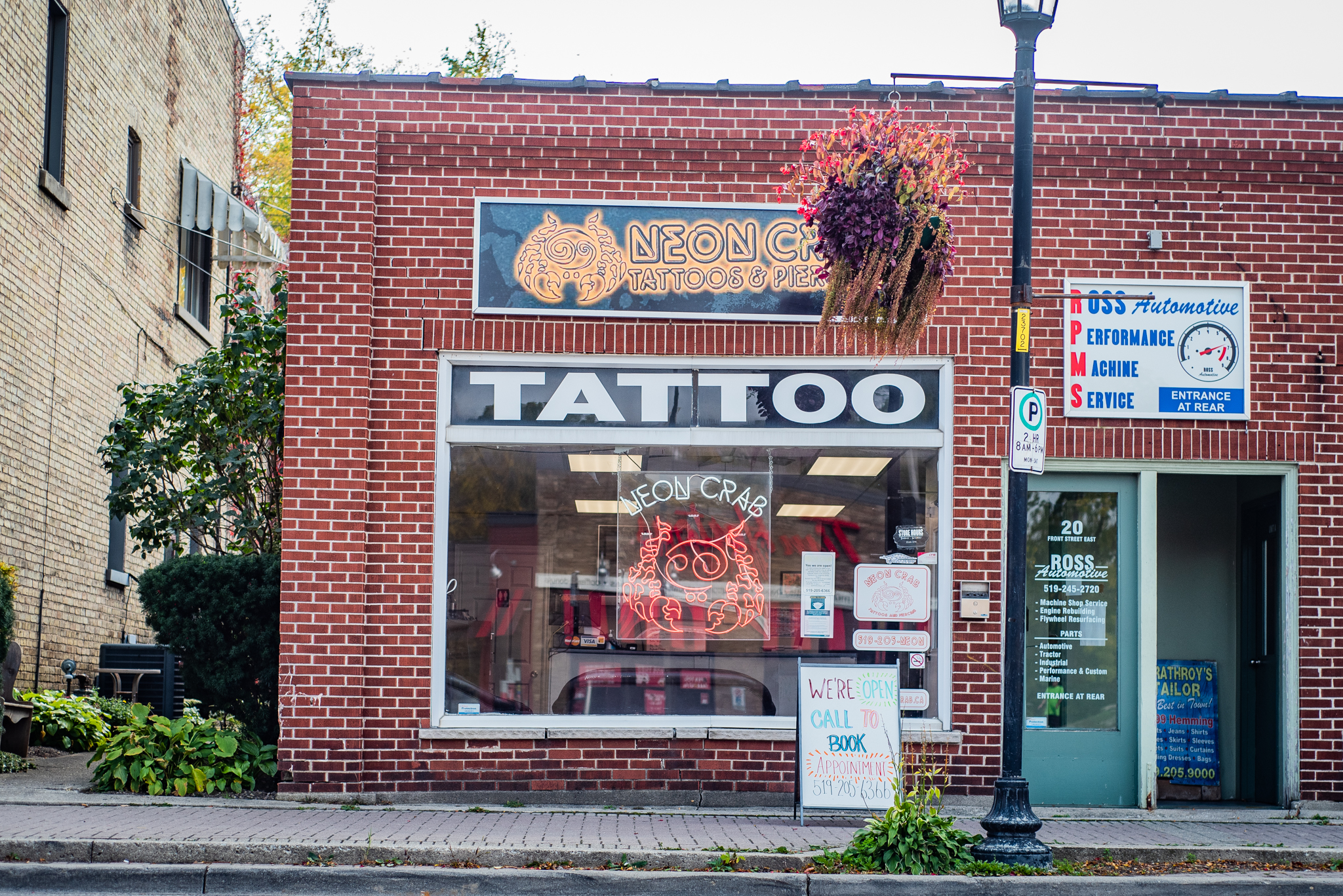 About The Strathroy Location
At Neon Crab Tattoos & Piercing, we believe that tattooing is truly an art that is the ultimate expression of individuality. Located at 20 Front St. E. in Strathroy, Ontario, just across the street from Tim Hortons, we offer a licensed/health board inspected studio staffed by friendly, experienced professionals.

We provide personalized services in a comfortably clean and sterile environment. We are inspected by the Middlesex London Health Unit and participate in Biological Sterilizer Monitoring Program through Mesa Labs. Its regular testing assures our sterilization equipment is maintaining hospital grade requirements.

Although we at Neon Crab Tattoos & Piercing specialize in custom tattooing and believe that a tattoo should be unique, and just for you, we do have an enormous selection of original flash art to choose from, created by artists in our studio. Our staff will also help you make an informed decision regarding body modification and give you all the facts on a wide variety of body piercings. Custom designs are our specialty and are at no extra charge.

Please call the shop directly to inquire about booking same day appointments.

Crab Money gift certificates available in any dollar amount with no expiry! Give us a call today or email info@neoncrab.ca, and let us work with you to bring your vision to life.


News and updates for Strathroy location
No news to display
Neon Crab | Strathroy
Neon Crab Strathroy
20 Front St. East Strathroy, ON N7G 1Y4
519-205-6366
Monday: Closed Tuesday - Saturday: 11:00 am - 7:00 pm Sunday: Closed
Fill out the form below & we will get back to you as soon as possible
Ask a Question
Fill out the form below & we will
get back to you as soon as possible