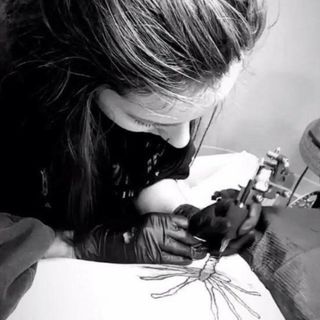 Tattoo & Piercing Artist
Kiara
A little bit about the chick behind the needle. Originally from Brantford, ON, Kiara started in the industry in early 2014.
While maintaining several certificates from necessary Blood Borne Pathogens knowledge to attending Piercing Seminars, she never stops learning.
Kiara is a fun, passionate, laid back artist, who mainly enjoys a neo-traditional based style; from black & gray to full colour, she never limits herself.
She prides herself in her work, mainly using machines she's built herself. She challenges herself every day at Neon Crab while cracking a good joke here and there too.
Kiara specializes in piercings above the waist and custom designed tattoos. She can turn your thoughts into gorgeous tattoos that you'll be proud to wear forever.
She enjoys tattooing anything from gnarly skulls to your loved one's' handwriting.
Reach out to Kiara today through her personal email at kiara@neoncrab.ca
Ask a Question